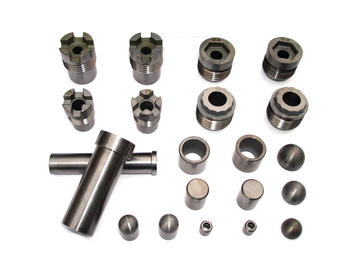 History and function of tungsten carbide PDC drill bit nozzles

With the features of simple structure, high strength, high wear resistance and high impact resistance, the characteristics of PDC bit nozzle is one of the three new technologies of drilling in the world in the 1980's. Field use shows that diamond bit drilling is suitable for soft to medium hard formations because of the advantages of longer service life, less down time, as well as a more consistent bore.

As one of the important components for the diamond drill bit, tungsten carbide drill bit nozzle has the effect to clean the bit and bottom hole; carbide nozzles also have hydraulic rock fragmentation effect. Conventional nozzle is cylindrical; it can produce a balanced pressure distribution in the rock surface.

Nozzles for PDC bits are mainly used for cooling water and washing mud, according to the drilling of geographical environment, we will choose different water flow and hole size in the shape of the tungsten nozzles.

What type can we produce?
Langsun Carbide can produce all kinds of nozzle threads for PDC rock bit in metric and imperial thread. Unified national coarse thread, fine thread and special threads including precision grade 3, the highest accuracy in American standard. According to your requirements of the carbide bit they can be designed with interchangeability. Our carbide nozzles can be divided into two kinds, with and without thread. Carbide nozzles without thread are mainly used on the roller bit, carbide nozzles with thread are applied mostly on the PDC bit. According to different handling tool wrench, there are 5 types of our threaded nozzles for PDC bits:
①.cross slot (4);
②.Y (3 slot);
③.Hexagon;
④.Inner hexagon;
⑤.Quincunx.

We can not only produce tungsten carbide nozzle, but at the same time also produce with different brazed or heat set (hot press) of alloy nozzle. Many customers have special requests for nozzle material. We can compound the special tungsten carbide material grade for you. We have experience to produce different shapes and sizes of tungsten alloy nozzles.

You can contact with us if you have any technical problems about the carbide nozzles, we have a strong technical team to help you!