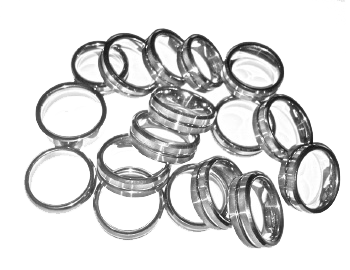 We produce tungsten carbide jewelry for many domestic companies which export to all over the world. Tungsten jewelry includes tungsten carbide rings, Tungsten carbide band ring, gold plated tungsten rings, tungsten rings, tungsten wedding bands, tungsten earrings, tungsten necklaces, tungsten chains, tungsten bracelets, tungsten watches, etc.

Tungsten carbide wedding rings now are more and more popular.Tungsten carbide is recognized as the hardest material, hardness only after diamond in the world.Because of its properties, it's the symbol of love, never wear, and never fade. It is gradually replacing gold, platinum for mens tungsten carbide ring as well as womens tungsten carbide rings.The enduring qualities of tungsten carbide makes them the perfect choice for a wedding ring or wedding band.We have our own blank factory,and we can process the rings according to your requirements.

Tungsten carbide ring is one of the most important Jewelries we produce.
If you need OEM tungsten carbide manufacturer. We are the first choise for you!