Tungsten Carbide Drilling Components tungsten carbide drill bushings
Langsun Carbide has many kinds of tungsten carbide bushing products,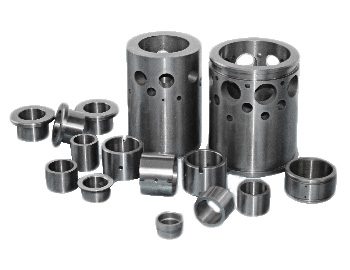 with good materials, excellent performance and good wear resistance. To make our carbide bushings high machining accuracy, keeping operation precision, prolong the life time of rolling axletree, we strictly control our quality, and have a high reputation in oil and natural gas industry. We produce many OEM carbide sleeves for our clients all over the world.
Specifications
carbide drill bushings for sealing
①.100% raw material
②.trial order accept
③.finished and blanks available
④.professional suggest

Application:
Tungsten Carbide Shaft Sleeves are often used in water pump, oil pump and other pumps, especially used for high pressure or corrosion resistance pumps. Flow restrictors, servo seat and components are made of tungsten carbide which are widely used in oilfield.

Various grades and types we can supply, feel free to ask us, Thank you!

Advantage
①.Full-set quality control
②.Strict quality inspection
③.Tight Tolerances
④.Technology Support
⑤.As international standard
⑥.Good quality and prompt delivery
Cobalt Binder Grades
| | | | | |
| --- | --- | --- | --- | --- |
| Grade | Binder (Wt %) | Density (g/cm3) | Hardness (HRA) | TRS (≥N/mm²) |
| YG6 | 6 | 14.8 | 90.0 | 1520 |
| YG6X | 6 | 14.9 | 91.0 | 1450 |
| YG6A | 6 | 14.9 | 92.0 | 1540 |
| YG8 | 8 | 14.7 | 89.5 | 1750 |
| YG12 | 12 | 14.2 | 88.0 | 1810 |
| YG15 | 15 | 14.0 | 87.0 | 2050 |
| YG20 | 20 | 13.5 | 85.5 | 2450 |
| YG25 | 25 | 12.1 | 84.0 | 2550 |

Nickel Binder Grades
| | | | | |
| --- | --- | --- | --- | --- |
| Grade | Binder (Wt %) | Density (g/cm3) | Hardness (HRA) | TRS (≥N/mm²) |
| YN6 | 6 | 14.7 | 89.5 | 1460 |
| YN6X | 6 | 14.8 | 90.5 | 1400 |
| YN6A | 6 | 14.8 | 91.0 | 1480 |
| YN8 | 8 | 14.6 | 88.5 | 1710 |